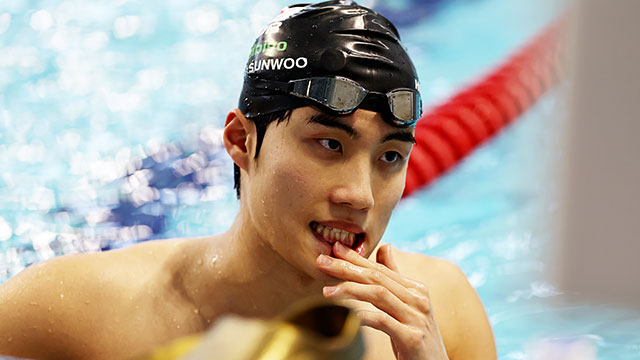 The Korean Swimming Federation has confirmed that national swimmer Hwang Sun-woo (20, Gangwon Provincial Office) has not been disqualified from the national team after he was involved in a collision while driving in front of the Jincheon Athletes' Village yesterday (Nov. 13).
"Hwang Sun-woo was driving at around 7:45 yesterday and contacted a passerby in a place that was not a crosswalk, but he did not immediately realize the accident," the federation explained.
"Hwang turned his car around at the entrance of the athletes' village and went to the scene, but as there was no sign of an accident, he returned to the athletes' village, and later in the parking lot, he saw that his side mirror was open, so he returned to the scene of the accident and explained the circumstances of the accident to the police who arrived at the scene."
"There was no foul play, such as drunk driving or fleeing after the accident, so it does not fall under any of the reasons for disqualification from the national team (such as drunk driving, gambling, violence and human rights violations) according to the rules of the Korean Sports Federation," he added.
Hwang reportedly apologized to the bystanders and settled the case this morning (April 14).
The federation reiterated that "although there were shortcomings in his follow-up and response due to his lack of driving experience, he did not commit any fraudulent acts such as driving under the influence of alcohol or attempting to flee after the accident," and that "he is deeply remorseful for the situation that occurred due to his carelessness."
The federation also promised to "further strengthen the athlete management system to prevent recurrence," stating that "while the police investigation remains open, Hwang Sun-woo will not be disqualified from the national team."
The Jincheon Police Department will investigate the details of the incident, 카지노사이트넷 including whether Hwang had any intention of fleeing.